DroidJack Crack With Pre Activation Keys For Premium Android Users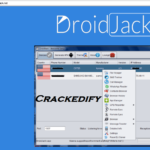 DroidJack Crack Most Powerful Android Management Software For Hackers, Control Anyone Phone Wirelessly And Steal His Personal Information.
DroidJack Crack Download Link1 appears to be a service that allows men to remotely take control of women's iPhones. Kaspersky has previously identified it as Sandwort. A developer with experience in utilizing Apps from Google Play developed. Users may log in to it in order to have their far-flung mobile carry out certain actions. You may get the unlocked version of the Application right now. Although users could safely enter Messaged, they stand out among other Smartphone cracking applications. There is a new dimension of performance available with this technology. Sander has been put to use in strategic initiatives aimed squarely at the clients of upscale financial institutions.
Powerful Creation OF Hacking Tools For Android Or IOS!
DroidJack Premium Keys This app is not free and open-source software, but it may be used to spy on your mobile device. Multiple gadgets can be monitored and managed from a central hub. You can manage and keep tabs on all of your Android gadgets with the help of a simple GUI. Either use an already-existing APK file, such as social networking software or a game-hacking tool, or create your own to facilitate the replay download. Its 4.4 version is currently available without cost. The download gives you a user-friendly interface and all the features you need to keep tabs on your loved ones' Android devices. In many countries, it is against the law to secretly install such a thing on someone else's smartphone. Users should think carefully about their alternatives before embarking on this path since doing so puts them at increased risk of a downward spiral that might ultimately lead to a string of home invasions. It's easy to see how one person may use a simple piece of software to snoop on another's online activities and prevent them from receiving help. This program can break into Chrome, the latest Android emulator. Android devices are scanned With Patch Free victim's basic Android smartphone is easily controlled. This software is capable of managing cutting-edge Android upgrades, which introduces new hacking tools for Android.
What,s Is DroidJack?
DroidJack Activated File Any Android device can now be hacked, and the resulting payload can be sent to and installed on victims' devices. Files can be sent wirelessly from the device to the computer, tests can be seen, parts for the gadget and the vehicle can be obtained, and the gadget's last known position may be retrieved and shown on Google Maps. There's an in-built APK editor for making your own APKs, complete with features like a file browser, phone dialer, contact thief, geolocation tracker, and software installer.
Can We Steal Data?
By using this patch, With The Using Of This Software Hacking Tool You Can Steal Any Android Phone Personal Information With a Single Click Of the Mouse.
Features Of DroidJack Patch
camera device's specs
current GPS position seen
managed inside the same app
over-the-top (OTT) services
speculated spreading numbers
including Skype, Microsoft
unnamed OTT provider SMS
customer base advertising
R SMS directs the victim
best remote management
app for Android is available
transfer data wirelessly
hide your personal information
Another app For Download If You Want To Try
How To Install This DroidJack Torrent?
Get the latest version of "DroidJack Crack ".
Un-Extract with "WinRAR".
Install Full Setup.
Tap To Run.
After Running, Keep Using All Modern Tools That Gives You Help During The Creation Of Creative And New Ads.
DroidJack Crack v4.4 Download Licensed Version Free 2023
was last modified:
May 6th, 2023
by